Michael Sheen is a Welsh actor best known for the Underworld series, Frost/Nixon and The Twilight Saga: New Moon. He portrays Lucian in the Underworld series.
Background
Edit
Sheen trained at the Royal Academy of Dramatic Art, and made his film debut in When She Danced. His breakthrough performance was as Tony Blair in the made-for-TV movie The Deal. He then gained even more popularity by appearing in the 2003 film Underworld. He was later cast as a news reporter in Frost/Nixon, and he appeared in the Twilight installment, New Moon. Sheen also appeared in the action film, TRON: Legacy.
Personal Life
Edit
In 1995, Sheen became involved with Kate Beckinsale, whom he met while casting for The Seagull. In 1999, Sheen and Beckinsale had a daughter, Lily Mo Sheen. Beckinsale was cast by director Len Wiseman in Underworld, and she suggested Sheen for the role of Lucian. While filming the movie, Beckinsale and Wiseman became close. In late Decemeber 2002, Beckinsale ended the relationship with Sheen and began dating Wiseman less than a month later. Beckinsale, Wiseman, and Sheen have all said there was no affair. However, Wiseman's ex-wife disputes that claim, saying that there definitely was an affair during the filming of Underworld.[1]
UnderworldEdit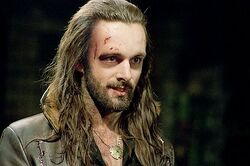 When director Len Wiseman was struggling to find a suitable actor for the role of the Lycan Lucian, lead actress Kate Beckinsale, the girlfriend of Sheen, suggested Sheen for the role. Wiseman was impressed by Sheen's audition, and hired him for the role. Underworld became the first film to gain Sheen notoriety in popular opinion. Sheen and Beckinsale's relationship ended in late 2002 when Beckinsale began a relationship with Len Wiseman. Despite this, Sheen helped Wiseman in casting for Underworld: Evolution.
Underworld: Rise of the LycansEdit
Sheen reprised his role as Lucian in the 2009 film, Underworld: Rise of the Lycans. Rather than being a side character, Lucian took center stage in Rise of the Lycans as the main protagonist, alongside Sonja.
Michael Sheen's role in Underworld is as a Lycan, the ancient enemies of the Vampires. However, he portrays a Vampire in the Twilight series.
References
Edit
External links
Edit