Shurikens are spring-loaded razor-edged silver weapons seen in the Underworld series. They are used by the Vampires for combat against Lycans and Werewolves. They are made of silver specifically to take advantage of a Lycanthrope's extreme allergy to the metal.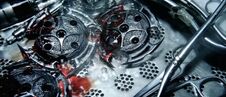 Shurikens first appear in Underworld, used by the Death Dealer Selene against Raze, a powerful Lycan. However, despite the fact that Selene embeds four silver shurikens into Raze's chest, they seem to be little more than an inconvenience to him.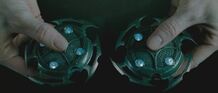 A variation of the shurikens from the first film make an appearance in
Underworld: Evolution
as a prototype explosive design. Selene takes these from
Andreas Tanis's
weapons stash, and uses them against
William Corvinus
, the oldest of the Werewolves. Due to William's fast movement, the shurikens miss and embed themselves in the ceiling of his
prison
, where they explode seconds later, wrecking much of the area.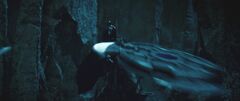 Sonja carries a version of the shurikens in Underworld: Rise of the Lycans, which are embedded in the guard of her sword.
The same explosive shuriken from the second film make two appearances in
Underworld: Awakening
. Selene is seen using one against human soldiers, embedding it on a nearby wall where it explodes when the soldiers pass by. Later, she uses one against a soldier with a flamethrower, throwing the shuriken on his backpack cylinder, causing it to explode.
Ad blocker interference detected!
Wikia is a free-to-use site that makes money from advertising. We have a modified experience for viewers using ad blockers

Wikia is not accessible if you've made further modifications. Remove the custom ad blocker rule(s) and the page will load as expected.