Todd Schneider is an American actor and stuntman. He has performed stunts for over 60 films, and is best known for his stuntwork in Spider-Man 3 and Angels & Demons.
Background
Edit
Schneider got his start in the film business portraying a Snowboarder in the 1998 film, Snow Taxi. Two years later, he performed stunts for American Pie 2, followed by stunts for Zoolander and Not Another Teen Movie, as well as performing as a stunt double in five other productions.
Since then, he has performed stunts in dozens of other projects, including Buffy the Vampire Slayer, Tropic Thunder, The Bourne Legacy and CSI: Miami. Most recently, he has performed stunts for the blockbuster films Iron Man 3 and Star Trek Into Darkness, as well as for the remake of Oldboy.
UnderworldEdit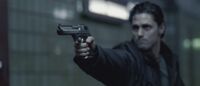 Schneider has appeared in the Underworld series as both an actor and a stuntman. In Underworld, he worked with stunts and played a Lycan soldier named Trix who is killed close to the start of the film. He returned to work on stunts for Underworld: Evolution, and again in 2012 for Underworld: Awakening.